Read Today's Latest Headlines As Atiku Abubakar Takes Campaign To US, Abia Court Orders FG To  Pay Nnamdi Kanu N500m, As damages following his illegal abduction and human rights abuse.
Atiku Abubakar Takes Campaign To US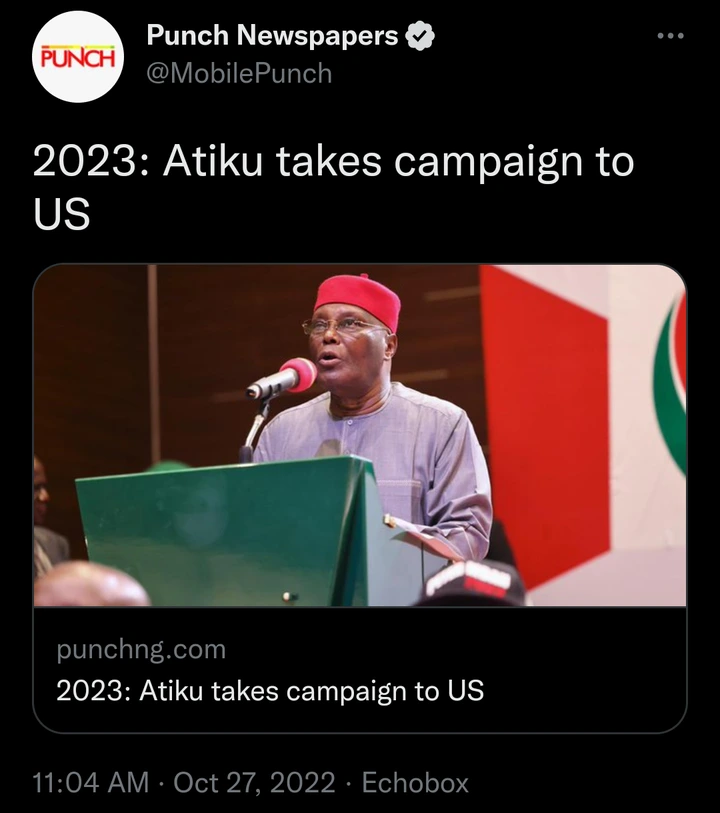 The presidential candidate of the Peoples Democratic Party, Alhaji Atiku Abubakar, has left Nigeria for political campaigns in the United States of America.
In 2018, amidst talks that he could not visit the US, Atiku had in company of the former Senate President, Dr. Bukola Saraki and others visited the US.
The visit to the US was significant as it dismissed all doubts that Atiku could not travel to the US.
Atiku is commencing a weeklong electioneering campaign in the US, where he would be meeting Nigerians and business community during the visit.
As part of his programmes and engagements while in the US, Atiku would be meeting with Nigerians in Diaspora as well as with the PDP members in North America.
Pay Kanu N500m, Abia Court Orders FG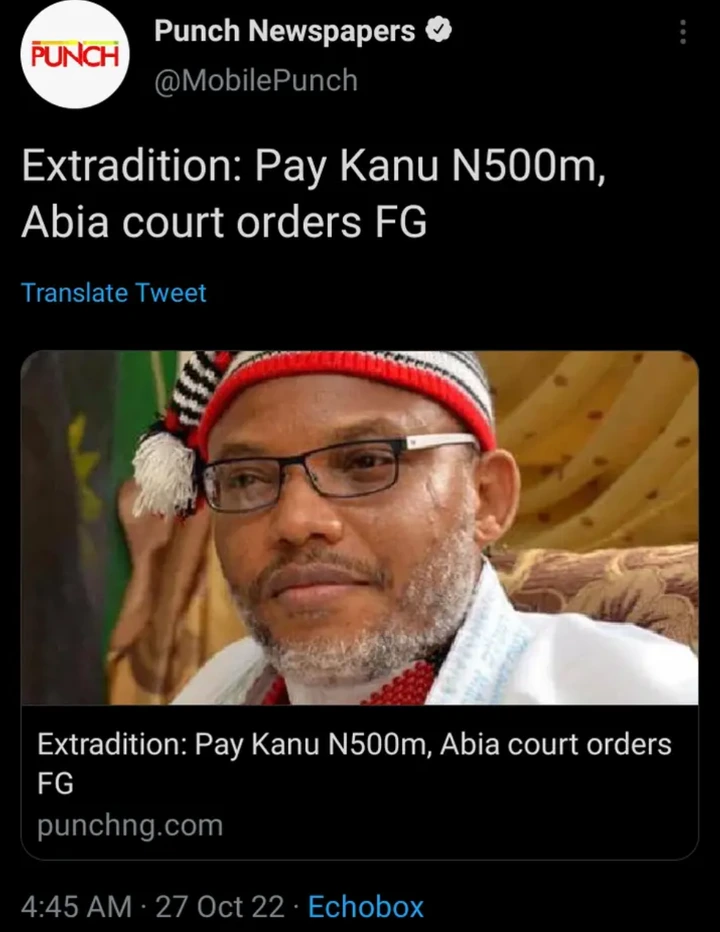 A Federal High Court sitting in Umuahia, the Abia State capital, has ordered the Federal Government to pay the leader of the Indigenous People of Biafra, Nnamdi Kanu, N500m as damages following his illegal abduction and human rights abuse.
The court also ordered the Federal Government to return him to Kenya, from where he was extradited to Nigeria on June 19, 2021.
The court presided over by Justice E.N. Anyadike, insisted that the extradition of Kanu from Kenya without recourse to the legal process was a flagrant abuse of his fundamental human rights.
Kanu, through his counsel,
Aloy Ejimakor, had approached the court challenging his extradition from Kenya on June 19, 2022.
Umahi, Ayade Visit Governor Wike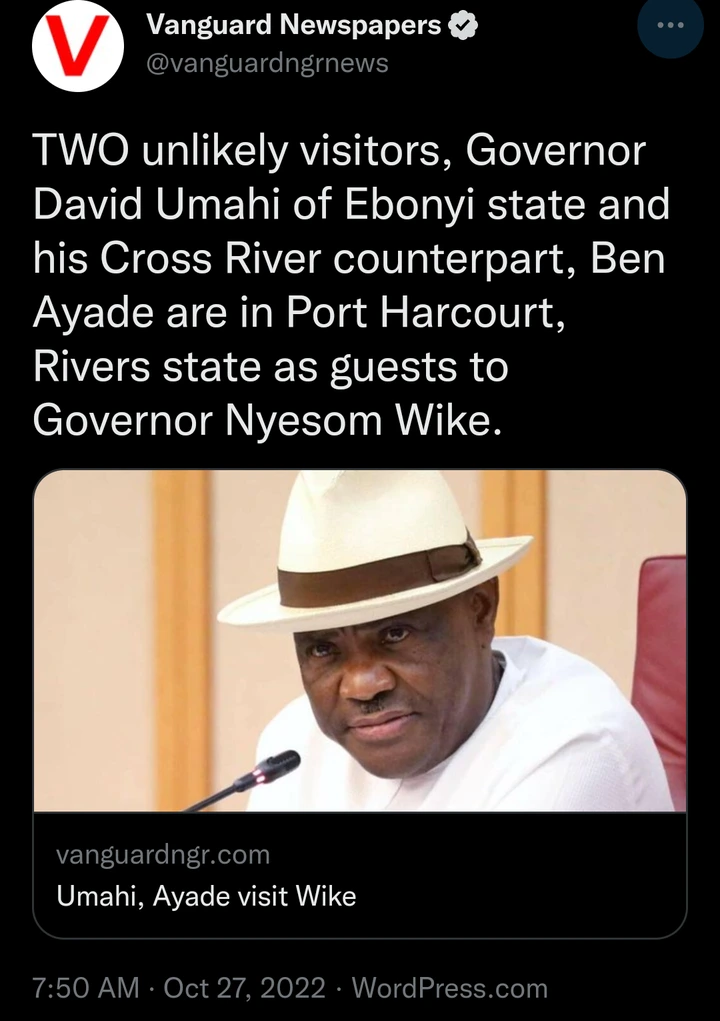 Two unlikely visitors, Governor David Umahi of Ebonyi state and his Cross River counterpart, Ben Ayade are in Port Harcourt, Rivers state as guests to Governor Nyesom Wike.
Both Umahi and Ayade, originally elected governors under platform of Peoples Democratic Party (PDP) before defecting to federal ruling All Progressives Congress (APC) were sighted Wednesday night at the Rumuekirikom, Obio Akpor Local Governor Area private home of Governor Wike, in company of his Abia counterpart, Okezie Ikpeazu.
The quartet were said to have gone into a closed door meeting with details yet to be revealed at the time of filing this reports.
Like US, UK; Canada, Australia Warn Citizens Over Possible Terror Attacks, Kidnapping In Nigeria's Capital, Abuja, Others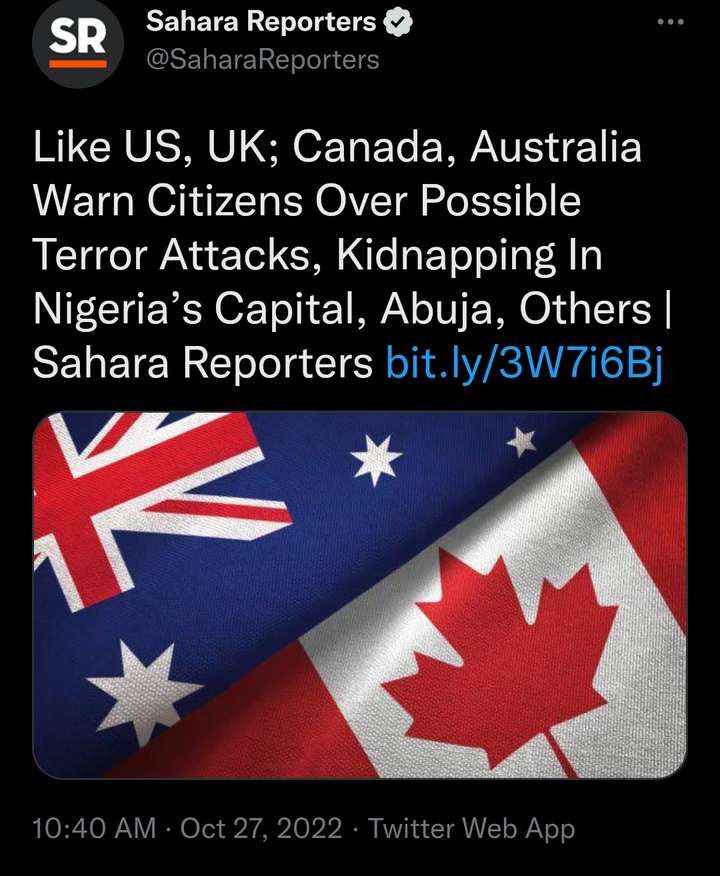 Following reports by the United States and the United Kingdom that there is an elevated risk of terror attacks in Nigeria, Canada and Australia have warned their citizens to stay alert.
The US Embassy on Sunday issued a security advisory on the elevated risk of terror attacks in Abuja, the Nigerian capital.
According to the warning, the attack would be especially aimed at government buildings, places of worship, schools and other centres where large crowds gather.
The United Kingdom government also warned its citizens in Nigeria to stay alert due to an "increased threat of terrorist attack in Abuja."