Muwanshat College of Health Science – This is to inform the General Public that Muwanshat College of Health Science and Technology (MUCOHSAT), Jalingo has commence the sales of application form for 2022/2023 Academic Season into its following programs;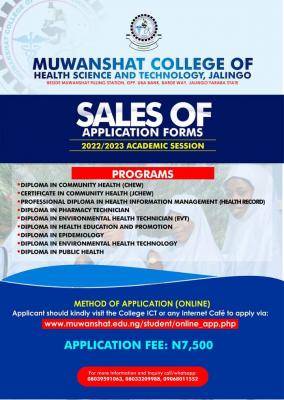 1) Diploma in Community Health (CHEW)
2) Certificate in Community Health (JCHEW)
3) Diploma in Pharmacy Technician
4) Professional Diploma in Health Information Technology (health record)
5) Diploma in Health Education and Promotion
6) Diploma in Public Health
7) Environmental Health Education
8) Diploma in Epidemiology
9) Diploma in Environmental Health Technician (EVT).
Mode of Application(Online).
Applicants are to visit the College ICT or any internet Cafe through: www.muwanshat.edu.ng/student/online_app.php.
Application fee is N 7,500 only.

For more information call/whatapp: 08039591063, 08033209988.
Sign:
Management.