On Tuesday, the Ogun Traffic Compliance and Enforcement Corps (TRACE) reported that two people had died and four others had sustained injuries in an accident that involved a commercial bus, a truck, and a motorcycle near the Conoil Bus-Stop on the Lagos-Abeokuta highway. The accident involved all three vehicles.
Mrs. Temitope Oseni, the Owode-Ijako Unit Commander of TRACE, who confirmed the incident, told the News Agency of Nigeria (NAN) in Ota that the unfortunate incident took place at approximately 10:03 p.m. on Monday. NAN reported that Mrs. Temitope Oseni's statement was made in Ota.
According to Oseni, a blue Daf truck with the registration number AAA 094 XT was traveling at a high speed from Sango-Ota to Abeokuta when it suddenly experienced a problem with its brakes. As a result, the truck crashed into a commercial Mazda bus with the markings FKJ 509 XX and a Bajaj motorcycle with the markings FFF 416 XY.
She stated that there were a total of six people engaged in the collision, two of whom were fatally injured while the other four had a variety of injuries.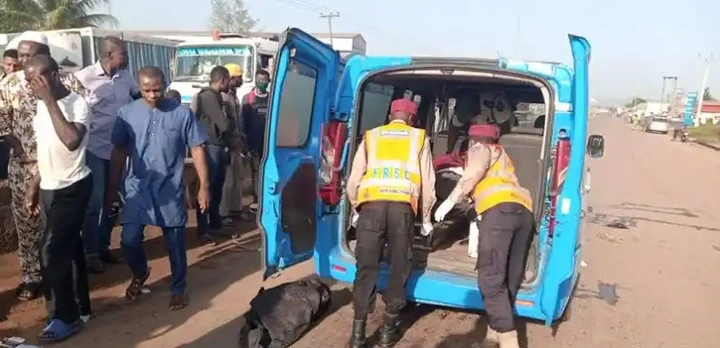 The bodies of the dead had been transported to State Hospital in Ota, where they are being treated, while the survivors are also being cared for at the same facility.
Oseni issued a warning to drivers, advising them not to speed or drive recklessly in order to prevent the loss of life and property.
In addition, she gave them the piece of advice that, before taking their vehicles out on the road, they should always check to make sure that everything is in working order with them.