A well known Nigerian journalist and a host on Arise Television, Oseni Rufai, has reminded Nigerians that it only took former president Goodluck Jonathan, six weeks to appoint his Ministers when he became the President of the country in the year 2011, but some used six months to accomplish the same task.
Oseni Rufai made this disclosure on his twitter handle, shortly after he was attacked by some twitter users for telling Nigerians that the newly elected British Prime Minister, Rishi Sunak, picked his ministers shortly after he became prime minister, while some spent 6 months doing the same thing.
The previous tweet he made read: "Rishi Sunak became PM at noontime and by 4pm we are already sure who and who will be Ministers, some people spent 6 months in giving us ministers in Nigeria.let's do better in 2023."
After making the tweet, some individuals attacked him, claiming that Rishi Sunak did that because UK practices parliamentary systems of government.
In addition, Oseni Rufai made it known that he is sure that those individuals who attacked him will also say that Ex President Jonathan ran a parliamentary democracy.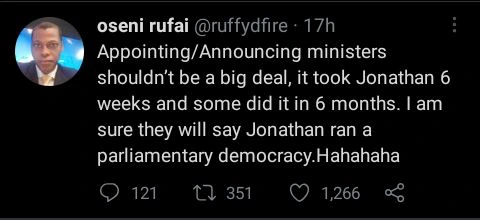 Just as the next year's presidential election approaches, Nigerians must rise up and do the needful, so as to make sure that credible individuals are voted for in this forthcoming presidential election. The earlier we do the needful, the better for all of us.
What is your take on this particular issue? You can drop your comments and opinions below