Google Africa Developer Scholarship – Are you an existing and aspiring developer? A young African techy or enthusiast? Then you are invited to apply for Google Africa Developer Scholarship 2022. The program aims to engage with existing and aspiring developers to help them build the skills they need to get a job in tech after the program is over.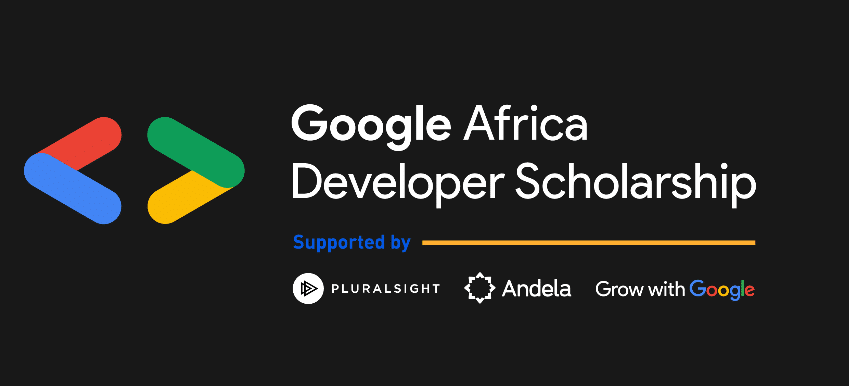 The program gives participants free access to select courses, projects, embedded labs (powered by Qwiklabs) and skill assessments; plus, support from the Google Developer community. The resources available in the Google Africa Scholarship will help developers build the skills necessary to get their Google certification.
Scholarship Sponsor(s): Grow with Google, Pluralsight and Andela
Scholarship Type: Full
Host Institution(s): Pluralsight
Scholarship Worth: See Scholarship Benefits(below)
Number of Awards: Several
Study Level: All study level
Nationality: Africans

Google Africa Developer Scholarship 2022 | DETAILS
Grow with Google and Pluralsight have partnered for the third consecutive year to provide a program to support software developers across Africa in three different roles: Associate Android Developer and Associate Cloud Engineer. Previous participants have gone on to build impactful projects for their communities, make incredible steps in their career journeys and even become Google certified developers and engineers.
Eligibility Criteria

To be eligible for Google Africa Developer Scholarship 2022, applicants must meet the following criteria:
Be an existing or aspiring software developer.
Be at least 18 years of age and be a resident of a country in Africa.
Demonstrate excellent leadership and problem-solving skills.
Scholarship Benefits
Master in-demand Google developer skills with expert-authored Pluralsight content.
Skills development in preparation for examination for the Associate Android Developer Certification.
Mentorship support from the GADS program and the Google Developer community.
Application Procedures
How-to-Apply: Interested applicants for the Google Africa Developer Scholarship 2022 are to complete an onboarding survey.
Applicants will then proceed to fill the registration form (available after submitting the onboarding survey). Watch any of the available Pluralsight Skills content OR complete your "Associate Android Developer" Skill IQ.
Applicants for Google Cloud can follow same procedures (completes an onboarding survey then fill registration form).
Application Deadline: Not specified
Visit the Official Website for Further Details