GeedyStar College of Health Technology  – Applications are hereby  invited from suitably qualified candidates for Admission into GeedyStar College of Health Technology Programmes for 2022/2023 session.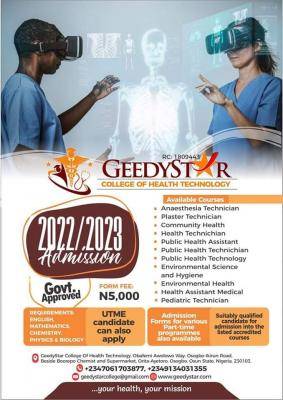 Available Courses
Anaesthesia Technician
Plaster Technician
Community Health
Health Technichian
Public Health Assistant
Public Health Technichian
Public Health Technology
Environmental Science and Hygiene
Environmental Health
Health Assistant Medical
Pediatric Technician
REQUIREMENTS:
ENGLISH, MATHEMATICS CHEMISTRY, PHYSICS & BIOLOGY
FORM FEE
₦5000
Forms can be obtained at GeedyStar College Of Health Technology, Obafemi Awolowo Way, Osogbo-kirun Road, Beside Boorepo Chemist and Supermarket. Orita Ayetoro Osogbo Osun State, Nigeria.