Fed Poly Ede – We wish to inform all the newly admitted students for the 2021/2022 Academic Session that the deadline for the completion of online registration is two (2) weeks from the date of this memo that is, Friday, 20th May, 202
Students are also advised to proceed to Medical Centre of the Institution in the order outlined previously for their Medical registration.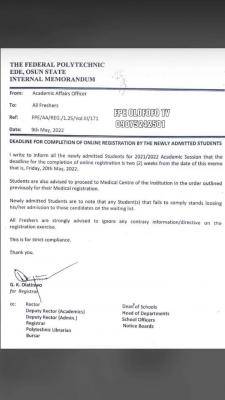 Newly admitted students are to note that any student(s) that fails to comply stands loosing his/her admission to those candidates on the waiting list.
All Freshers are strongly advised to ignore any contrary information/directive on the registration exercise.
This is for strict compliance.